Duo with Rafael Orth
Since I met Rafael Orth in a Musical project that Rafael was in charge of we couldn't stop talking and thinking about music. So why not get started in real life and combine piano and voice?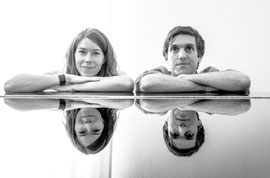 As we are both keen on Jazz and old Broadway tunes at the moment, that's what our first programme "The Real American Folksong" will present. Sondheim, Cole Porter and Gershwin are among the artists of our interest, but also less known composers and more bluesy tunes very well deserve to be brought on stage: for the first time in Rothenburg/Wümme on June 29th.
For a wedding that we cared for a lot we developped a second program containing "easy listening Blues", Soul and some popular music. So we may also be booked for events now.