What has happenend...
So far we were/I was gladly a part of...
... various events by the FWTM, as the Entrepreneupreis 2014 at Konzerthaus Freiburg or the German Day of Tourism at Schloss Reinach

... at Zelt-Musik-Festival accompanying the dinner of donors

... Soloist at Jazzaffair - Frauenjazzchor Freiburg
... at Europapark

... at Gewerbeakademie Freiburg
... some very romantic weddings
... "Die gute Stadt" - a modern opera performed at Stadttheater Freiburg (Großes Haus) written by Sinem Altan/Tina Müller, playing one of the main characters Hochhinaus

For those who like to dig in Birtland's history a bit...

Urinetown - The Musical! The freshly founded "Good Company" is dedicated to broaden the until now scarce landscape of musical theatre. First production in 2016 was Urinetown, a Broadway Show based on a post-apocalyptic setting, satirical and with great music that ranges from soul to klezmer and classical musical hymns... The production was puristic and creative, made to conquer various stages in Freiburg - let the revolution begin...
More information here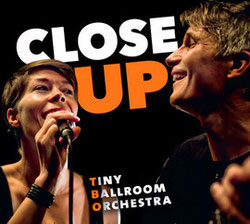 December 2013 - the first album by Tiny Ballroom Orchestra is out! We call it "Close up" as it wants to burn Ingmar's and mine understanding of our music on CD. Regional Newspaper Badische Zeitung finds it worked!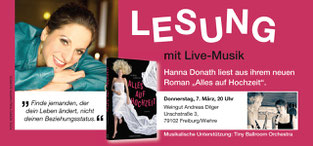 March 2013: Hanna Donath read from her new novel "Alles auf Hochzeit", and we provided musical support. Meanwhile a wonderful sip of wine at  Weingut Andreas Dilger, mmh...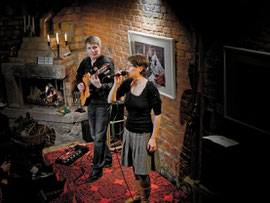 February 2013: Tiny Ballroom Orchestra on the red carpet, finally! A wonderful concert in Dr. Feser's crowded Weinerei in Wildtal. Besides music there was lovelo homemade wine and a great fireplace-atmonsphere to enjoy.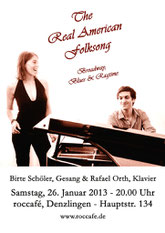 January 2013: "The Real American Folksong - Broadway, Blues und Ragtime" - together with Rafael Orth on Piano we told tales of Broadway at Roccafé, spiced up with some Blues, Ragtime and Soul. Our own personal declaration of love to the american music of the 20s to 70s-Jahre and incredible musicians like Cole Porter, Kurt Weill, Richard Rogers or Ella Fitzgerald. Even the Badische Zeitung came by, obviously they liked it -> Article (German)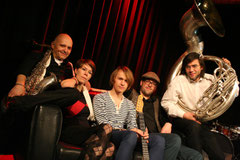 January 2013: "Two Tubes goes Birtland" - it started as an unusual idea and ended with an evening at EWerk with its very own sound. Together with Werner Englert (Sax), Johannes Büttner (Tuba), Konrad Wiemann (Percussion) and Luca Pusch (Guitar) we played a very special and intentionally a bit crazy program: Tom Waits was there, Kurt Weill, Melody Gardot and Stevie Wonder - "That can't be it!" we thought and will continue this project as "Two Tubes goes Tiny Ballroom", then joined by Ingmar Winkler on guitar.